Mathematics, Weaving, Storywork, and Drawing
Anjeanette Dawson, Squamish Nation Wool Weaver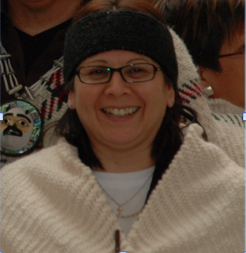 Anjeannette is a member of the Squamish Nation. Her ancestral name is Spelexilh and she works with the Squamish Nation Education Department as the Elementary Home School Counselor. She has been wool weaving for about 10 years and has made numerous pieces. The pieces she is most proud of include: a wall hanging commissioned and hanging in the Squamish-Lil'wat Cultural Centre in Whistler, BC; and a fur collared shawl for the Opening Ceremonies at the Vancouver 2010 Winter Olympics. She has also made tunics for our preschool children, headbands for ceremonial purposes, and shawls, tunics and sitting blankets for private collections. She was commissioned by the Squamish-Lil'wat Cultural Centre to make regalia such as shawl/sash, leggings, belt and a headband. Anjeanette has facilitated numerous workshops to those that want to learn how to weave on floor looms and has taught over 300 students in the past 8 years.
---
Shawn Desaulniers, PhD, UBC Mathematics Department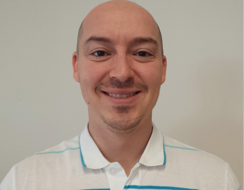 Shawn is a faculty member of the Department of Mathematics at UBC. He is an instructor and also serves as an Aboriginal Outreach Coordinator for the Faculty of Science. He is Metis Canadian and has a PhD in mathematics from the University of Alberta.
---
Billy Yovanovich, Haida Artist
Artist William (Billy) NC Yovanovich Jr.––whose Haida name is Kuuhlanuu––is a member of the Ts'aahl Eagle Clan of Skidegate, Haida Gwaii. Billy is a recent graduate of Queen Charlotte Secondary School in Skidegate and has studied Haida art under well-known Haida artist Robert Davidson. Inspiration for Billy's Haida designs come from Haida legends and stories, and the spectacular land and sea that make up Haida Gwaii.
Billy became intrigued with the connection of Haida art and mathematics when he agreed to participate in developing a photo-book that explored the mathematics of making a Haida button blanket. When Haida students graduate they are gifted a button blanket that acknowledges their accomplishments, transition to adulthood, and Haida identity. Billy designed his own graduating button blanket and agreed to record the making of it for a mathematics photo-book titled The Math and Magic of Button Blankets.
---
Informal Sharing Contributors:
David Sufrin, Vancouver Island University
Diana Brooke-Webster, Cowichan Tribes and Vancouver Island University
Latika Raisinghani, University of British Columbia
Irina Ostrovsky, SD 63, Saanich
Judy Halbert and Linda Kaiser, Vancouver Island University
Sara Davidson, Language and Literacy Education, University of British Columbia
Marina Bolotin-Milner, University of British Columbia
Joanne Yovanovich, Haida Gwaii
The 4th Aboriginal Math Symposium was held Friday March 7, 2014 at the UBC First Nations Longhouse with over 180 people attending from across the province. This year's theme of Mathematics, Weaving, Storywork and Drawing drew participants including educators, faculty members, administrators, students and community members from Port Hardy, Haida Gwaii, Kamloops, Lillooet, Sooke, Victoria, Chilliwack and the Lower Mainland and universities including University of the Fraser Valley, Vancouver Island University, Vancouver Community College, Douglas College, University of Victoria and UBC together to explore, share and imagine new possibilities for improving mathematics education for Aboriginal learners.
Participants investigated patterns through permutations with Dr. Shawn Desauliners, designed and wove their own wool quarter bags with Squamish Nation wool weaver Anjeanette Dawson, and explored proportion and patterns in First Nations West Coast art with Haida artist Billy Yovanovich.
This very successful event was organized by Cynthia Nicol, Jo-ann Archibald and Melania Alvarez of UBC with support from the Indigenous Education Institute of Canada, Pacific Institute for the Mathematical Sciences (PIMS), the UBC Indigenous Teacher Education Program (NITEP), Department of Curriculum and Pedagogy, and Actuarial Foundation of Canada.
March 7, 2014, 9:00 am – 3:00 pm.
UBC First Nations Longhouse (1985 West Mall)
Please join us for the 4th Aboriginal Math K-12 Symposium at the First Nations Longhouse, UBC on March 7, 2014. This symposium is an opportunity for teachers, administrators, Ministry representatives, community members, and academics to connect, explore, imagine and share new ideas, resources and research on Aboriginal mathematics education from kindergarten to Grade 12. Together we hope to:
Learn about new research in mathematics and Aboriginal education
Discuss and share approaches, research and educational projects for improving Aboriginal math education
Develop community connections to facilitate and support improving Aboriginal math education
Program Description
During the day we will work on activities that involve the connections of mathematics with weaving, storywork and drawing. Participants will have opportunities to weave, do mathematics, network with others, share stories, and discuss and share their research and teaching strategies with each other.
Agenda: 8:45 am – 3:00 pm
8:45 – 9:00 am Pick up registration material. Coffee/Tea available. Meet & Greet.
9:00 – 10:00 am Welcome and Introductory Story with Dr. Jo-ann Archibald, Associate Dean of Indigenous Education UBC.
Doing Mathematics Together with mathematician Dr. Shawn Desaulniers, UBC.
10:00 – 10:30 am Weaving a Quarter Bag with Anjeanette Dawson, Squamish Nation wool weaver.
10:30 – 10:45 am Refreshment Break
10:45 – 11:15 am Weaving a Quarter Bag continued with Anjeanette Dawson, Squamish Nation wool weaver.
11:15 – 12:30 Sharing Project Information (participants who sent in an expression of interest –10 minutes each).
12:30 – 1:15 pm. Lunch is provided
1:15 – 2:00 pm Sharing Project Information continued (participants who sent in an expression of interest –10 minutes each).
2:00 – 2:30 pm Story and Drawing with Haida Artist Billy Yovanovich, Haida Gwaii.
2:30 – 2:45 pm Weaving a Quarter Bag continued with Anjeanette Dawson, Squamish Nation wool weaver.
2:45 – 3:00 pm Groups discussions, network blog, closing thoughts and story. Guiding question: What more do we need to know to improve math education for Aboriginal learners?
Hosts: Jo-ann Archibald, Cynthia Nicol – UBC Faculty of Education; & Melania Alvarez, PIMS
Sponsors: Indigenous Education Institute of Canada-UBC Faculty of Education; Pacific Institute for the Mathematical Sciences (PIMS); Department of Curriculum and Pedagogy UBC; UBC Indigenous Teacher Education Program (NITEP)