image: UBC Brand and Marketing| Reconciliation Pole Raising 2017 | 7idansuu Edenshaw, James Hart, master Haida carver
Sustaining Resilient Mathematical Communities for Well-Being
May 12 and May 19, 2022 Virtual
Summary
Our theme this year, Sustaining Resilient Mathematical Communities for Well-Being spoke to the strengths educators and learners draw upon in facing local and global challenges. The pandemic has pressed the need for sustaining more local communities and drawn increased attention to global inequities. Climate change, confirmation of unmarked graves of Indigenous children, and international conflicts that have displaced people from lands and homes across global contexts remind us of the devastating effects of colonial logics. More than ever these events speak to our need to listen to the call of coming together. The need to lean into those reciprocal relationships of building resilience with others, relationships of care, compassion and well-being. Questions that guided our discussion include: What roles might mathematics education play in building and sustaining these community relationships and reconciliation? How can we practice community in ways that bring Indigenous community, culture, and mathematics together for inquiry, curiosity, adventure, strength, compassion and well-being?
Session 1: Communities for Well-Being with Dr. Florence Glanfield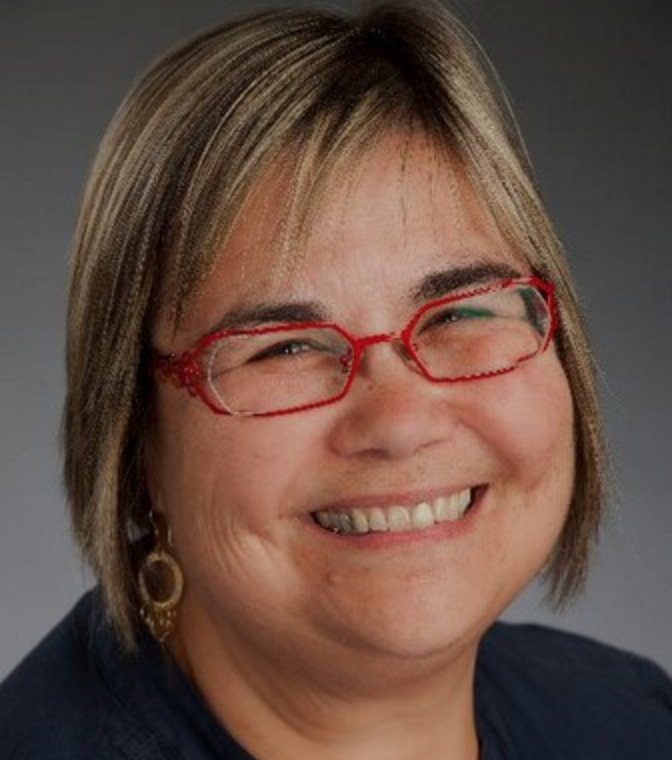 Our featured speaker, Dr. Florence Glanfield, a citizen of the Métis Nation of Alberta, Vice Provost of Indigenous Programming and Research, and Professor of Mathematics Education at the University of Alberta inspired us with her conversation of community relational practice. Dr. Glanfield drew upon examples through her research and experience building community across diverse contexts including with Indigenous communities across Canada, urban Indigenous youth, teachers and teacher educators in Tanzania and Rwanda, Indigenous language speakers in Alberta, and through building connections with teachers, researchers, and students locally and globally. This presentation set the tone for the following Circle Sharing Sessions and the importance of relations for sharing our work together.
---
Session 2: Igniting the Sparkle Sharing Circles
Dave Wahl
I am in my 20th year of teaching and I am proud to have taught the last 17 years in Indigenous communities. For the past 12 years I have been teaching in the traditional territory of the Haida Nation. I plan to finish my career in this classroom. The goal of this project was to teach symmetry, translations and reflections with inspiration from Haida artwork. Students demonstrated understanding by creating painted wooden earrings and pendants using acrylic markers. Cori Savard, a well-known Haida artist, visited our classroom and demonstrated how compass, divider and tracing paper are used to create symmetry and reflection. We then visited her where she is carving a totem pole. Students were able to see how symmetry is created on a large project.
Download presentation resource PDF
---
Janelle Findlay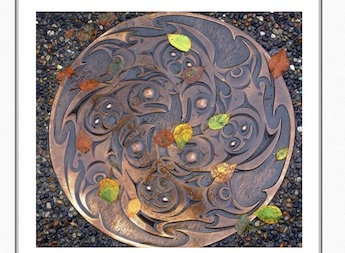 With 14 years teaching experience in both Calgary and Vancouver, and a current MEd UBC student, Janelle is chasing the ideal of how best to engage her Grade 4-7 students with mathematics. Driven to make math artistic and embodied, she aims for her students to gain necessary foundations in a memorable and meaningful way. Janelle shared a project titled: Non-Linear Story-Telling through Rotational Symmetry. How can we use mathematics to tell non-linear stories? Inspired by the noteworthy artwork of Susan Point's circular storm sewer covers throughout the city of Vancouver, Janelle proposed to Grade 7s to use their understanding of circle geometry and rotational symmetry to design and share their own non-linear stories.
Download presentation resource PDF
---
Stan Manu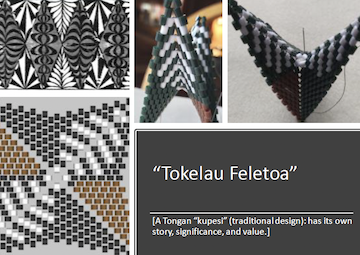 Dr. Stan Manu is an Associate Professor in Mathematics and Statistics and a member of the Sq'ép Team from the University of the Fraser Valley, Abbotsford, B.C. Stan was part of last year's 'Beadwork + Mathwork Community Project', which brought a number of educators together to learn about the indigenous art of beadwork, to engage in mathwork, and to contribute collaboratively to a project that deepened "awareness of Indigenous presence and futures". In this session, Stan shared what he learned and showcase and explain the mathematics and stories associated with all the warped hyper-squares he learned to create and thus contributed at the end to the Community's "Hyper Blanket". This project showed that both beadwork and mathematics are indeed relational.
Download presentation resource PDF
---
Megan H.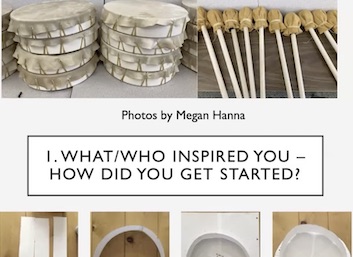 Megan H. is from the Métis Nation. She works as an Indigenous Education Teacher on the territory of the Musqueam, Squamish, and Tsleil-Waututh Nations at the Vancouver School District. At last year's Symposium Megan shared her paper drum project. This year, students designed drum artwork, using the Coast Salish Design elements, and explored how to enlarge images to fit a drum. Older students also graphed the design elements, such as those seen in the Vancouver Mural Festival. I was inspired by Musqueam artist Debra Sparrow's Blanketing the City mural series, and used a scale factor to reduce the shapes in mural perspective drawings.
Download presentation resource PDF
---
Jessica Naziel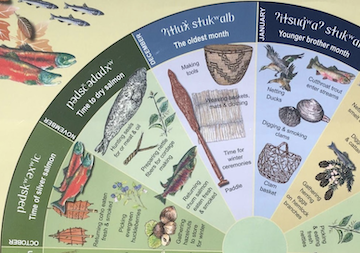 I am Jessica Naziel. I am Witsuwit'en and I belong to the Tsayu (Beaver clan). I am currently a student at UBC in the Indigenous Teacher Education Program (NITEP). I like to learn about language, traditional medicines and stories about my people. In my presentation I shared how Indigenous calendars can be used to talk about fractions – when we discuss seasons and months, and then use those ideas to question what kind of harvesting takes place during those months. I concluded with highlighting some of the nutrients found in the berries, and fish and how it contributes to good health.
Download presentation resource PDF
---
Carol Bob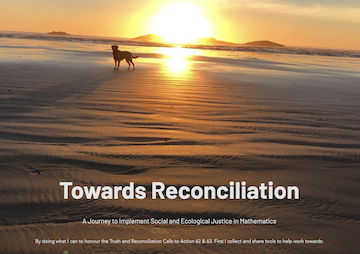 My traditional name is Sta'os'ta'on. I am a member of Wilp Luus of the Gitxsan First Nation. I am also of Coast Salish and Nuu-chah-nulth descent. My education includes a B.Sc., B.E.d., Diploma in Special Ed., and I am in my final year of my M.Ed. at UBC. My question is "How can an Indigenous educator, grades 8-12, support colleagues in incorporating culturally responsive practices in their mathematics classrooms?" I will share some resources that teacher leaders can use to support educators interested in implementing Indigenous ways of knowing into their classroom.
Click here for website
---
Stephanie Langille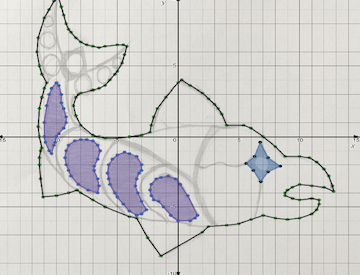 My name is Stephanie Langille and I am currently the Math Department Head at Moscrop Secondary School in Burnaby. My background is in applied mathematics and this comes out in my love of math projects, especially in junior grades. We used artwork created by an Indigenous student (in grade 8) and had students recreate the piece in desmos by placing ordered pairs on the outline and connecting the dots using a polynomial.
Download presentation resource PDF
---
Leighann Rodger
Leighann Rodger has lived on Haida Gwaii for almost fourteen years and is the principal of Sk'aadgaa Naay Elementary. She has been teaching for fifteen years in various capacities and is thrilled to have participated in a project with Grade 2/3 students titled: A Grade 2/3 Class Investigation of Proportions and Wasco. Through learning about Wasco, a Haida supernatural seawolf, we gained an understanding of mathematical proportions. A comparison of various components of Wasco allowed us the opportunity to delve into the understanding of proportions through drawing and modelling with play-doh, plasticine, and clay.
Download presentation resource PDF
---
Allison Gardner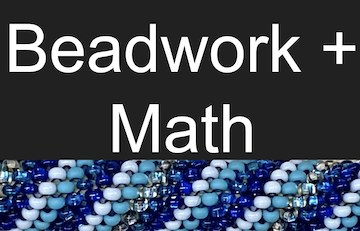 My name is Allison Gardner, and this year I have the privilege of working alongside teachers and creating resources that nurture relationships and opportunities for teachers to weave Indigenous Pedagogy in the classrooms within the Abbotsford School District. I'm a passionate teacher with 15 years of experience from Kindergarten to Grade 8. This year I participated in an online Community Beadwork Project with Nico Williams called Beadwork + Mathwork. Looking at beadwork through the lens of a mathematical framework led me to see opportunities for mathematical Inquiry, application of mathematical concepts, and an opportunity to talk about wellness through beading in Math classes (Grades 3-8).
Download presentation resource PDF