Mathematics, Students and Community.
Billy Yovanovich, Haida Artist
Artist William (Billy) NC Yovanovich Jr.––whose Haida name is Kuuhlanuu––is a member of the Ts'aahl Eagle Clan of Skidegate, Haida Gwaii. Billy is a recent graduate of Queen Charlotte Secondary School in Skidegate and has studied Haida art under well-known Haida artist Robert Davidson. Inspiration for Billy's Haida designs come from Haida legends and stories, and the spectacular land and sea that make up Haida Gwaii.
Billy returns to this year's Symposium by popular demand.
Shawn Desauliners, PhD, UBC Mathematics Department
Shawn is a faculty member of the Department of Mathematics at UBC. He is an instructor and also serves as an Aboriginal Outreach Coordinator for the Faculty of Science. He is Metis Canadian and has a PhD in mathematics from the University of Alberta. Shawn will attend this year with his MATH 335 NITEP students to offer us intriguing math problems that can bring math, students and the community together.
Melania Alvarez UBC Mathematics Department and PIMS
Melania is UBC's Mathematics Outreach Coordinator and the BC Education Coordinator for the Pacific Institute for the Mathematical Sciences (PIMS). Melania is currently teaching a section of MATH 335 at UBC and, along with Shawn Desaulniers, brings her students to this year's Symposium to offer us math problems you can't refuse.
Enpaauk Andrew Dexel, Niakapamux Artist
Andrew is a print artist from the Niakapamux Nation who began as a graffiti artist and now paints on canvas. His work has been featured in galleries in Vancouver, Seattle, Ottawa, Kamloops, and Honolulu and published in magazines such as Redwire, Blood Lines and Brunt. Andrew will share some of his work and engage in a conversation around its connections to mathematics.
Informal Sharing Contributors:
Shawn Desaulniers, UBC
Jennifer Sherif, Aboriginal Education Enhancement, VSB
Anjeanette Dawson, Squamish Nation (wool weaving)
Nathalie Sinclair, Simon Fraser University
Caitlin Johnston, Vancouver Island University
Joanne Yovanovich, School District 50 Haida Gwaii
David Sufrin, Vancouver Island University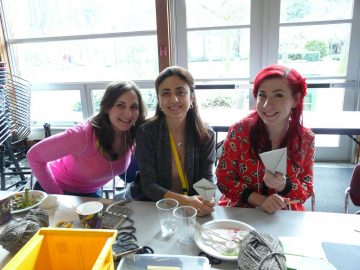 On Friday February 27, 2015 more than 140 educators from across the province met at the UBC Longhouse to explore, imagine, and discuss new ideas resources and research for improving mathematics education for Aboriginal learners. Participants including educators, support educators, administrators, ministry representatives and academics attended from Haida Gwaii, Kamloops, Lillooet, Terrace, Prince George, Prince Rupert, Penticton, Misson, Sechelt, Vanderhoof, Vancouver Island and across the Lower Mainland. The event was hosted by the Office of Indigenous Education, the Department of Curriculum and Pedagogy, and the Indigenous Teacher Education Program [NITEP] in the UBC Faculty of Education, along with the Pacific Institute for the Mathematical Sciences and the Actuarial Foundation of Canada.
Following a welcome address from Musqueam elder Marny Point and storytelling by Dr. Jo-ann Archibald, the morning began with Haida artist Billy Yovanovich, Kuuhlanuu guiding participants through a hands-on drawing workshop to explore and examine west coast Native art from a mathematical perspective. This was followed by a math fair developed by UBC MATH 335 students under the guidance of their instructors Dr. Shawn Desaulniers and Melania Alvarez. Over 50 students displayed more than 25 math games, puzzles, and hands-on problems they developed for participants, many with connections to Aboriginal cultural contexts. The fair was well received and a highlight of the day. Copies of the problems will be available on the Aboriginal Math Symposium website.
This year six participants shared their projects during the Symposium's Informal Sharing session. Dr. Shawn Desaulniers, UBC Mathematics Department spoke about outreach activities such as Math Catcher, SNAP math fair, and Math Mania. Anjeanette Dawson, Squamish Nation shared her current wool weaving projects and motivated the weavers in the Symposium to continue their work. Caitlin Johnson, a teacher candidate at Vancouver Island University, shared a webquest she developed in David Sufrin's course on teaching mathematics. Dr. Nathalie Sinclair, SFU, demonstrated an ipad application called TouchCounts. Finally Joanne Yovanovich. Haida Gwaii, spoke about ideas and possibilities of curriculum design using the Haida Marine Calendar
As an example of connecting storywork and mathematics, participants listened to Raven Brings the Light as told by Old Massett Haida Gwaii elders and built paper nested boxes to explore questions related to size, surface area, volume, and patterns. As an extension, Natasha Davidson of Douglas College, guided participants in folding a raven from a square piece of paper. Enpaauk Andrew Dexel, Niakapamux artist, was unable to join the Symposium to share his work and participate in a conversation around its connection to mathematics, due to the birth of his child only days before.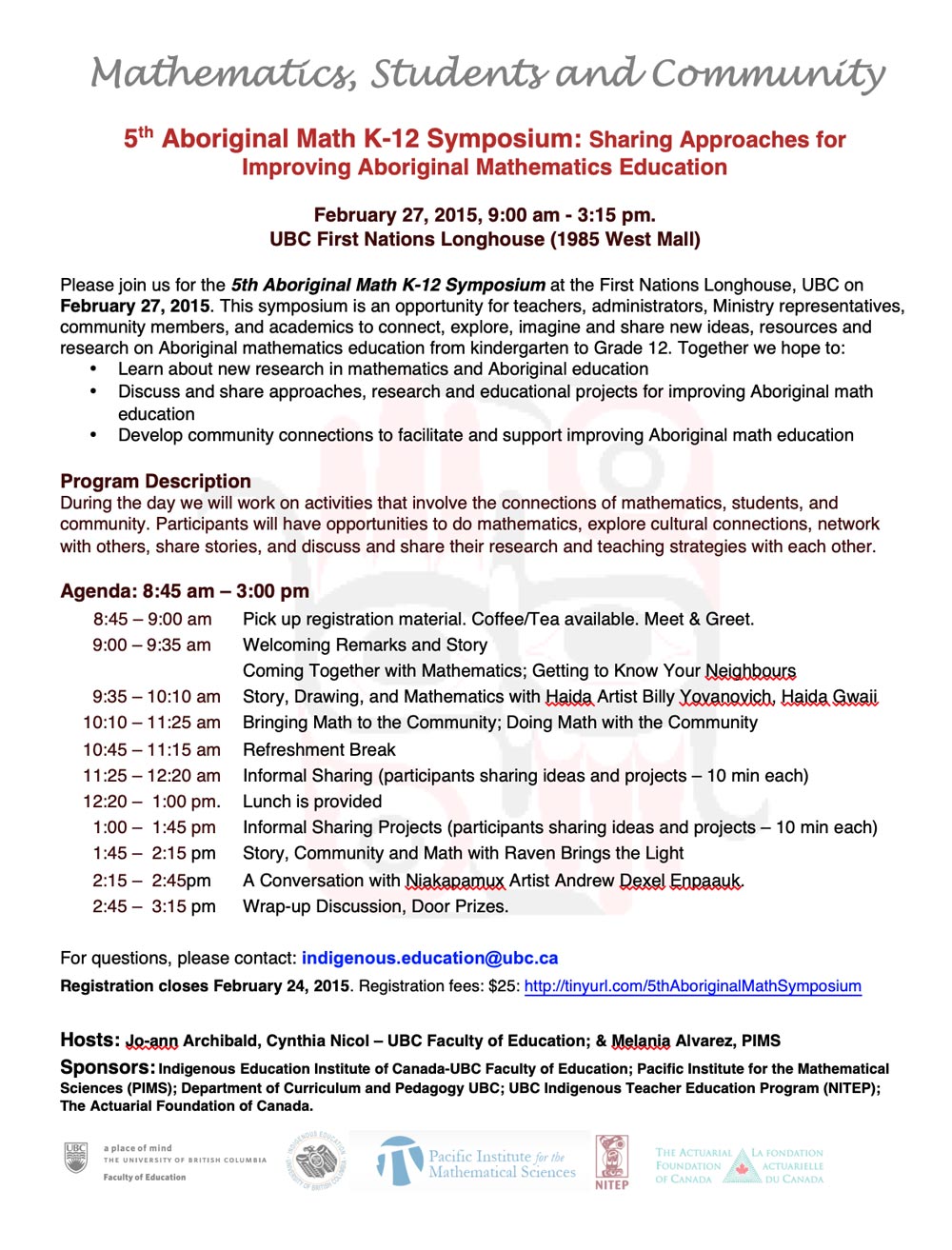 February 27, 2015, 9:00 am – 3:15 pm.
UBC First Nations Longhouse (1985 West Mall)
Please join us for the 5th Aboriginal Math K-12 Symposium at the First Nations Longhouse, UBC on February 27, 2015. This symposium is an opportunity for teachers, administrators, Ministry representatives, community members, and academics to connect, explore, imagine and share new ideas, resources and research on Aboriginal mathematics education from kindergarten to Grade 12. Together we hope to:
Learn about new research in mathematics and Aboriginal education
Discuss and share approaches, research and educational projects for improving Aboriginal math education
Develop community connections to facilitate and support improving Aboriginal math education
Program Description
During the day we will work on activities that involve the connections of mathematics, students, and community. Participants will have opportunities to do mathematics, explore cultural connections, network with others, share stories, and discuss and share their research and teaching strategies with each other.
Agenda: 8:45 am – 3:00 pm
8:45 – 9:00 am Pick up registration material. Coffee/Tea available. Meet & Greet.
9:00 – 9:35 am Welcoming Remarks and Story
Coming Together with Mathematics; Getting to Know Your Neighbours
9:35 – 10:10 am Story, Drawing, and Mathematics with Haida Artist Billy Yovanovich, Haida Gwaii
10:10 – 11:25 am Bringing Math to the Community; Doing Math with the Community
10:45 – 11:15 am Refreshment Break
11:25 – 12:20 am Informal Sharing (participants sharing ideas and projects – 10 min each)
12:20 – 1:00 pm. Lunch is provided
1:00 – 1:45 pm Informal Sharing Projects (participants sharing ideas and projects – 10 min each)
1:45 – 2:15 pm Story, Community and Math with Raven Brings the Light
2:15 – 2:45pm A Conversation with Niakapamux Artist Andrew Dexel Enpaauk.
2:45 – 3:15 pm Wrap-up Discussion, Door Prizes.
Hosts: Jo-ann Archibald, Cynthia Nicol – UBC Faculty of Education; & Melania Alvarez, PIMS
Sponsors: Indigenous Education Institute of Canada-UBC Faculty of Education; Pacific Institute for the Mathematical Sciences (PIMS); Department of Curriculum and Pedagogy UBC; UBC Indigenous Teacher Education Program (NITEP); The Actuarial Foundation of Canada.